Charlie Dean braced for stardom after whirlwind year in the limelight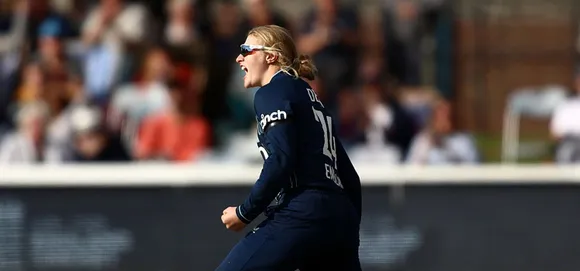 Charlie Dean has impressed in her first year in international cricket. © Getty Images
Charlie Dean returned to England colours against India last week after a whirlwind year in the limelight.

Last year's inaugural Hundred competition propelled her onto the big stage before an England debut against New Zealand, where she looked instantly at home. A hectic winter competing in the Ashes and World Cup followed, before a second stint in The Hundred, this time as London Spirit skipper – all before her 22nd birthday.

And while Spirit only chalked up two wins under her captaincy, it was another vital learning curve for a player set to be part of England's plans for the next decade.

Daughter of prolific Staffordshire batter Steven Dean, cricket was always around Charlie as a child. When the family relocated to the south coast where Steve teaches at Portsmouth Grammar School, Charlie found herself watching her father turn out each weekend for Havant CC.

"I was always on the sidelines of my Dad's games with my mum and my sister," she tells Women's CricZone. "I watched all the time. I guess when you're surrounded by it, of course you pick up a ball and want to have a go. But it was my mum who would play cricket with me on the side of Dad's games, rather than him. He was busy playing, so I've got my Mum to thank for that.

"When I was seven or eight, I picked up a ball and joined in a bit more. Because it was something Dad found so much joy in and spent a lot of his time doing, it was bound to happen for me."

She has made her name for England with the ball in hand, but it was with the bat that she excelled as a child.

"I loved to stay and hit the ball. I used to get my sister to bowl at me and I'd never give her a bat," she laughs. "I think my bowling has come on a bit more recently. I'm definitely grateful for that because I've made so much progress. But originally, I loved to bat."

Also Read: Charlie Dean's stocks are rising fast and her best is yet to come

Dean joined Havant CC and playing through the colts age group with the boys as there was no girls' team available at the time. She was soon picked up by the Hampshire women's set-up and benefited from a solid structure and good coaching from an early age.

Women's cricket did not enjoy the same profile as it does now, but one name stood out for Dean during her childhood, someone who would have a big impact on her future career – Charlotte Edwards.

"The visibility of women's cricket definitely wasn't there the way it is now," she says. "I remember going to an England Women's game at the Ageas Bowl way back, maybe 2009. The only name I could come up with was Charlotte Edwards, because she was the only high profile women's player at the time.

"Now with domestic cricket and The Hundred all being on free-to-air TV, there are a lot more household names. Especially with the Commonwealth Games and the exposure that women's cricket has got from that, it's definitely on the up.

"It's really inspiring for these young girls. I think I would definitely have benefited from that exposure when I was a kid. I would have been more excited, more interested in playing cricket for sure."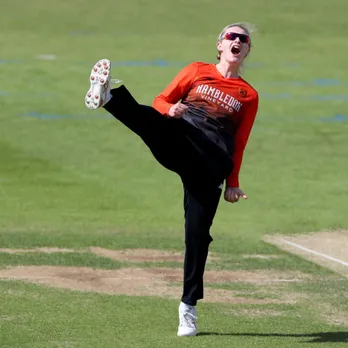 Her first foray into professional cricket came for Southern Vipers in the Kia Super League between 2017 and 2019. © Getty Images

Dean played alongside Edwards for Hampshire Women when she was 16 and 17 and considers herself fortunate to have had the chance to work under her mentor's guidance since – first at Hampshire, when Edwards became Director of Cricket and latterly Southern Vipers, where Edwards is now head coach.

"Having played with her and been on the pitch with her, it's amazing to see how she had such a brilliant cricketing brain. She's definitely taken that into coaching. She's a brilliant coach and very well respected for sure.

"She's been a massive influence on my career. One of her main philosophies is, block the good ones, hit the bad'uns! She makes cricket seem so simple. And I think that approach works for me. Bowl your best ball, bowl at the stumps and go from there."

Dean helped Hampshire win promotion to Division 1 in the County Championship in 2017, before playing a leading role in her county's Division 1 title the following season with 163 runs, including her highest List A score of 73.

Her first foray into professional cricket came for Southern Vipers in the Kia Super League between 2017 and 2019 before the introduction of a full-time professional regional structure in 2020. Like many players of her age group, Dean has come of age at a time of growing professionalism at a domestic level. It offers players the chance to make a career in the game outside of the England set-up. She agrees it has been a gamechanger.

Her leading role in Vipers' twin 50-over Rachael Heyhoe Flint Trophy titles in 2020 and 2021 and a maiden five-wicket T20 haul in the 2021 Charlotte Edwards Cup campaign helped win her a first full professional contract.

"It gives us the opportunity to be able to focus on playing cricket more full-time and getting hours training and in the gym," she explains.

"The standard of cricket has risen rapidly since professionalism has come in. It can only get better. It's definitely something players have benefited from and learnt from. Spectators are watching better cricket too, so everyone's enjoying it."

It was her stint with London Spirit in front of sell-out crowds in the inaugural Hundred that attracted wider public attention and allowed her to showcase her skills on the big stage.

"It was amazing playing in front of full houses last summer. I think the biggest crowd I played in front of before that was probably 2,000 in a Kia Super League game for Southern Vipers in 2017.

"Because our domestic cricket had been played behind closed doors previously , it was definitely something that took a bit of getting used to last summer.

"My first game in the Hundred was at Edgbaston and I was crowd watching for the first 20 balls! It's been massively exciting to play in front of crowds of people who want to watch us. The more people can come and watch, the more people we can get on board with women's cricket the better."

She felt her game developed over the course of the tournament and she had some notable scalps in the wicket column including her England colleagues Amy Jones, Danni Wyatt and Fran Wilson.

While she notes modestly that her game still has a way to go, she says: "I got used to playing against better players and it definitely helped build my confidence in knowing what my options were with my bowling.

"I felt I knew what my best ball looked like and that it was good enough to compete with some of the best players in the world. I guess that confidence just grew as the competition went on."

Dean felt in a good place to make her England debut just a few weeks later against New Zealand at Bristol after a full summer of professional cricket with Southern Vipers and exposure to television cameras and big crowds in the Hundred.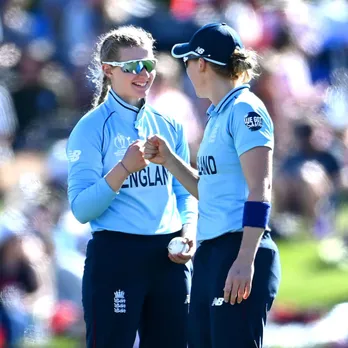 Heather Knight has been an inspirational figure for Dean. © Getty Images

She looked at ease throughout the five-match series, playing with a smile on her face and clearly enjoying herself.

Laughing at the memory, she says: "I think I was still quite surprised that I was playing, to be honest. I was just taking everything in my stride and trying to enjoy the game of cricket.

"I chatted with our sports psych and I was pretty nervous, but just wanted to bring it back to why we play cricket in the first place. It's to have fun. I think I managed to tap into that. Hopefully, I continue to do so."

Dean took 10 wickets in the series against New Zealand, including a four-wicket haul in only her second game at Worcester. She has become a regular fixture in England's 50-over side since and a prized part of skipper Heather Knight's attack.

Indeed, the England captain has been an inspirational figure for Dean. She cited Knight's leadership ability as something she wanted to emulate when she took over the reigns at London Spirit this summer – ironically after Knight herself was ruled out by injury.

"Heather has such a level head and a brilliant cricketing brain," she says. "She's always been really calming on the field and off it too. She's a really good human. The way she welcomed me into the England environment is something I definitely look up to."

Last winter saw England play an Ashes series against the all-conquering Australians, followed immediately by a World Cup in New Zealand. It was a grueling schedule played under strict COVID regulations. Alongside a Test debut, perhaps the highlight of Dean's trip was a four-wicket haul to set up victory over India which earned her a Player of the Match award.



Looking back on the experience, she says it was a tough tour to have so early in her career – three months away from home in a semi-bubble environment.

"A lot of the girls said I've been thrown in the deep end there! But I really enjoyed my experience and played a lot of cricket against some great players. So, on reflection, I know the results didn't quite go our way, but it was a really valuable experience for me."

This summer has seen several other young players follow Dean into the England side, a product of growing professionalism, which in turn has created increased competition for places, not least in the spin department.

Reflecting on the changing of the guard in the England ranks, Dean says: "It's been brilliant to see Alice Capsey going through and playing for England. Just the way she did for Oval Invincibles last year and it's exciting to see Freya Kemp, a left-arm seamer, too. It gives a feeling we're really going to go somewhere. It's going to be a tough period of transition, but it will be exciting at the back end of it.

"When I was in the England Academy as an off-spinner, we identified that potentially in the next five or so years, there were going to be a few retirements, so I've worked really hard on bowling my way into the England team.

"I managed to bowl a bit quicker, a bit flatter, but still be able to control and give a bit of flight where possible. I've tried to be an attacking off-spinner which can be hard to do. I've worked hard on varying the pace and trying to stay one step ahead of the batter and then being able to react when someone is coming at you. I've worked really hard on it and hopefully that shows.

"I want to continue playing for England as much as possible and be a real key player in that team. But if I can't do that, then I really want to enjoy my cricket, playing domestically. Being able to do it full time is a really wonderful thing."