Want to go out and take it session by session: Mithali Raj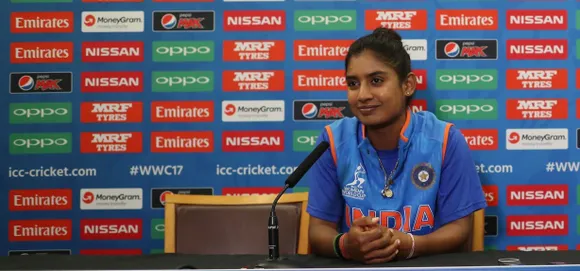 India skipper Mithali Raj has said that she would want the team to focus one session at a time in the Test match against England that begins tomorrow (June 16).

India have won their last three matches. If they manage to win the Test match at Bristol, they would set the record for most consecutive wins in Test cricket.

Speaking to the media ahead of the Test match, Raj said that she is not looking at any records. 'It never crossed any of our minds. We just want to go out and take it session by session. We want to get in with a good confident mindset out there," she said in the press conference on Tuesday (June 15).

ALSO READ: Hitter or accumulator, leggie or left-arm spinner: Questions for India ahead of Test return

The last time India played Test cricket was in 2014. Since then, a lot of new players have into the squad. When asked whether they had any interactions regarding the format with the younger players, the 38-year-old said that the senior players talked with the new entrants about approaching the Test cricket.

"Clearly, for someone who's making their debut, you don't want to burden them with expectations and responsibilities. I would urge that we together as a team would support them on the field, and they should just enjoy playing this format."

On whether this Test match could be a new beginning for Indian women, the skipper feels that it opens up the channel to have a three-format bilateral series. "It will help the overall standard of women's cricket. You ask any modern-day cricketer they still want to play the longer format. Because they actually know that it is the format that tests the skill of the players."

"Maybe in the coming years, it might lead to a World Test Championship. You never know. I mean, this is just the beginning. Let us hope that we continue to have the bilateral series where all three formats are there."

ALSO READ: India brace for litmus test against England on their Test comeback

Raj said that the team had a few sessions with the whites to ensure that the players have gotten used to it by red-ball the Test match begins. As far as the preparation for the Test match is concerned, she said that despite their practice sessions in the nets, it would boil down to how they react in different match situations.

"We can't really say, as you know, this is the situation in the match. Having said that, we are trying to tune their mindsets to red-ball cricket, how it can turn, what are the variations the bowlers can do and how the batters have to have the mindset of playing the longer format."

When asked about the used wicket on which they will be playing, Raj said that it doesn't affect them, and irrespective of the conditions, they would want to try and force a result.

"That is what our thought process is. Whether it is a used wicket or a fresh one as a player and captain, I definitely want my team to get a result. For that, it is important that we put down our strategies accordingly," she concluded.


Recommended Articles
{{#recommended_posts}}
Latest Stories
{{#latest_story}} {{/latest_story}}