Lucknow confirmed as hosts for India-South Africa limited-overs series starting March 7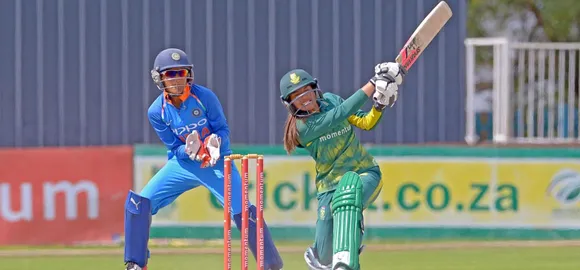 Sune Luus in action against India. © Women's CricZone
The India versus South Africa limited-overs series will be played in the Bharat Ratna Shree Atal Bihari Bajpayee Ekana International Stadium, the Uttar Pradesh Cricket Association (UPCA) said in a press release on Tuesday (February 23). India will play five ODIs and three T20Is starting March 7.

"As per the notification of the BCCI, India vs South Africa Women's 5 ODI & & 3 T20I series would be hosted by us at Bharat Ratna Shree Atal Bihari Bajpayee Ekana International Stadium," UPCA secretary Yudhvir Singh said in the statement. Incidentally, India will be returning to action exactly after a year.

"Both the teams are arriving on 25th February at Lucknow and ODI matches would begin from 7th March 2021 onwards," the statement further read. The second, third, fourth and fifth ODIs will be on March 9, 12, 14 and 17 respectively.

ALSO READ: Cloud over Dane van Niekerk, Chloe Tryon's availability for India tour 

The three T20I games will be played under lights on March 20, 21 and 24. The series marks the return of international women's cricket in the country after a long gap post-COVID-19 pandemic. However, whether fans will be allowed in the stadium is still known.

"We don't know that yet. All in the dark side," a UPCA official told this website when asked whether crowds will be allowed in the stadium considering the fact that India men's side has had them in the second Test in Chennai. The last time India played in any international match was back in March 2020 when they played in the final of T20 World Cup.

The only international level tournament that the Indian women played was in the Women's T20 Challenge in the UAE. The only cricket that the players played was in several invitational tournaments so as to keep them math fit. While neither the BCCI nor Cricket South Africa have announced the teams, it is understood, the teams will be out shortly.

Meanwhile, this is also the first time a women's international game will be hosted by the Ekana International Stadium. The stadium which was built in 2017 has hosted its first international match in 2018 -- an India-West Indies men's T20I.

The 50000-seater venue has also served as the third home ground in India for the Afghanistan men's team in 2019, previously playing in Dehradun and Greater Noida.
Recommended Articles
{{#recommended_posts}}
Latest Stories
{{#latest_story}} {{/latest_story}}