Natasha Farrant deserves to be at this level, says Tammy Beaumont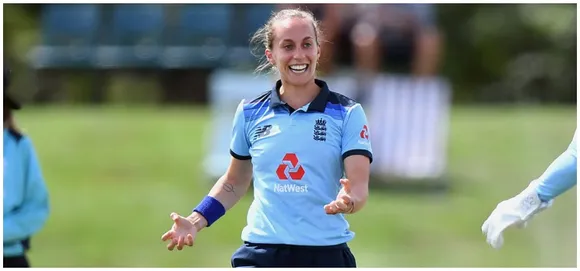 Natasha Farrant played just second ODI after a gap of eight years. © England Cricket/Twitter
England opener Tammy Beaumont believes that Natasha Farrant fully deserves to be bowling at this top-level, swinging on to the right-handers and putting pressure on the opposition.  The 24-year-old returned to the England ODI set up after a long gap of eight years and played her only 50-over international game when she was included in the playing XI against New Zealand on Tuesday (February 23).

"She is exceptional since she has come back on the tour," Beaumont told about Farrant who took 2/31 in her seven overs. Along with Katherine Brunt, Farrant shared the new ball and was up in the job straight on picking the dangerous Amy Satterthwaite for just three.

"She has really put pressure on the seamers actually. She is bowling well and swinging again and is great to kind of see that. She fully deserves to get her second ODI cap after a gap of few years. She shows why she is on the tour, why she deserves to be here and really happy for her," added the right-hand batter.

ALSO READ: Beaumont, Knight sweep New Zealand away in series opener

England, playing an ODI for the first time since 2019, started the three-match series on a commanding note winning the opener by eight wickets after restricting the opposition for just 178 all out in 45.1 overs. In reply, Beaumont and skipper Heather Knight (67 not out), both scored half-centuries to take England home in 33.4 overs.

"We probably had a wake-up call against the New Zealand XI last week and needed to sign up in some areas. The bowlers came out and showed that today, every single one was exceptional and bowled exceptionally well to keep New Zealand for 180 and bowl them out in particular. Really impressed and to get an eight-wicket win is really good," Beaumont added.

"We probably bowled too many bad balls last week in the warm-up games only because we haven't played that much cricket. But today, seemed so consistent, bowling to the same field, really good plans and also taking wickets was something we really focused on. That was really exciting to see and kind of encouraging really going forward."

ALSO READ: Still have some unfinished business in England shirt, says Natasha Farrant

Speaking about her own 71 off 102 balls, Beaumont said, "We were really happy at the halfway stage. I kind of just knew to go about my business, get myself in and try and see us home. That's the kind of performance that we want to pride ourselves on and make sure we kind of hit that standard every time. It's really good to go 1-0 up."

The 29-year-old also admitted how the whole bunch worked really hard to get back in the groove for the 50-over format and also heaped high praise of head coach Lisa Keightley for changing the mindset in the dressing room.

"We had to really work hard in the nets and get back to that idea of batting long and not play kind of T20 cricket in a 50-over game. Actually, Heather and I, had honest feedback with each in the nets the other day and hone ourselves accountable and actually, to get almost a 100-run partnership together was kind of make that conversation worthwhile," she said.

ALSO READ: The 2021 Hundred to kickstart with a women's fixture on July 21

"I think Lisa is really pushing us to kind of expand on our games. I think we do win quite a lot of games and that's the way we want to go about it. We are going to try and take wickets throughout the innings, something Lisa has really brought in, not just look contained and really kind of take responsibility with the bat and make sure the top four are doing the majority of the work and not putting pressure on anyone else."

Beaumont also spoke highly of 16-year-old Fran Jonas who made her international debut for New Zealand on the day. "She seemed really composed. For a 16-year-old to bowl like that; had a couple of close ones on DRS on me (laughs). She really seemed at home in New Zealand shirt," she added.
Recommended Articles
{{#recommended_posts}}
Latest Stories
{{#latest_story}} {{/latest_story}}