Nervously excited about returning to Test cricket, says Jhulan Goswami
One of the most endearing pictures to come out of South Africa's tour of India in March was a warm hug shared between Jhulan Goswami and Mithali Raj amidst the team huddle, celebrating the fall of a wicket. For a country in a bout with the second wave of COVID-19, that photo was almost like a healing balm. And for those who've followed the sport and the journey of the two stalwarts of Indian cricket, it was yet another glorious moment of the bond that's popularly termed 'MilJhul'.

While Raj made her international debut in 1999, Goswami donned India colours for the first time in 2002. Ever since, they have been the pillars of Team India for close to two decades.

"Right from the start, Mithali, as a captain, never forced me into anything. She used to say, 'I want to give you this field-set, are you okay with it?' I used to tell her, 'I'll bowl according to the field you set'. That is how we understood each other's mindset as we played together over the years," the right-arm seamer tells Women's CricZone of her compatriot, over a phone call.



"It's been 19 years since we've been playing together and the understanding has only developed. Our age is also the same, so there's no gap in that respect, too."

"We enjoy each other's company. It's fun to play with her. She is a different character on the field and outside the field. She knows when to switch on and switch off."

Both Raj and Goswami, who are 38 years old, have played ten Tests, which is the most among the active crop of players in international cricket. They will have a chance to add another cap to their kitty, when India play a Test on their tour of England next month.

ALSO READ: Laura Delany, Gaby Lewis eager to take massive strides ahead of crucial year for Ireland

"We all are looking forward and are excited to be back to playing Tests, after eight years. It's a great decision taken by BCCI and we must thank the BCCI officials," Goswami, who was part of the last Test India played in 2014 against South Africa in Mysore, says gleefully.

"At the same time, it's going to be challenging for all of us because we don't play the format regularly. We need to get used to it and that would take a bit of a time. Hopefully we adapt quickly to that."

Since 2014, India's focus had been on the limited over formats; first with an eye on the Women's World Cup in 2017 – that India narrowly lost – and then on the T20 World Cups in 2018 and 2020, where India made the semis and finished as runners-up respectively. Though there were calls for more non-Ashes women's Test, it fell on deaf ears till BCCI Secretary Jay Shah announced India's return to Tests, via a tweet on International Women's Day. It was later confirmed that England and India will play the lone Test in Bristol.



India played two Tests in 2014 – one each against England and South Africa. While Smriti Mandhana, Harmanpreet Kaur, Shikha Pandey, Punam Raut, MD Thirushkamini, Niranjana Nagarajan, Ekta Bisht and Shubhlakshmi Sharma made their first appearances in Wormsley against England, Sushma Verma, Poonam Yadav and Rajeshwari Gayakwad played their first Test against South Africa. Goswami, who picked five wickets against England and two against South Africa, expects more players to get Test caps on their impending tour next month.

"I'm sure there will be a lot of debuts in the Test, like the last time we played. When we played in England the last time, 7-8 girls made their debut in that Test," says Goswami, who has 40 Test wickets to her name.

"Nowadays for the last few years, the team has been training in the shorter formats – we were training for the 50-over World Cup first and then for the T20 World Cup after 2017. We have to be mentally strong (in Tests) because we have to be (prepared to be) on the ground for 90-100 overs a day. The game changes every session and one catch can come to you at any time and that could prove decisive."

"More than the skills it is going to be about the mind."

India's return to the traditional format of the game could be like a new beginning even for veterans like Goswami, who is nervous and excited at the same time. The players will be seen donning whites as opposed to the blues, taking even the manufacturers by surprise.

ALSO READ: Jhulan Goswami, the master of her craft



"(The manufacturers) are saying, 'why are you are asking for white and not for blue leg guards?' I said, 'no this time we'll be playing a Test match', and they say, 'Wow! Great ma'am, you're back to Test cricket!'" laughs Goswami.

"It's quite exciting. It's something different. When we started (our careers), we used to play in white kits and red ball, before slowly shifting away. I want to see how we react to the red ball (again)."

"We are all very excited and are looking forward to this Test. Hopefully it's a good Test match."

Goswami & co. were last seen in action in March in the limited overs series against South Africa in Lucknow, which India lost. The hosts had stepped onto the field almost a year after the T20 World Cup 2020 final. However, Goswami was in good rhythm through the ODI series, returning eight wickets in four games.

In the second ODI, a newer type of slower delivery made an appearance out of Goswami's repertoire, bamboozling both Nadine de Klerk and Shabnim Ismail. When asked about it, Goswami chose to play it down, in her own humble way.

"I keep trying variations and as long as you play, you try and develop newer things and train new methods. You try to implement newer things in a match situation; some days it works, some days they don't come off as the ball does not land in the region you want," says Goswami, who's the leading wicket-taker in ODIs with 233 scalps to her name.

"These are things you keep trying. Whenever we try variations, we make sure to hit the ball in the right areas. That day it worked well for me, but some days I don't get the right length."

"Bowling is about rhythm. When you're in good rhythm, you'll be able to control. When you're not in rhythm, there's a gap between what you think and what you execute. The challenge is to maintain the rhythm and hit the ball consistently in the right zone."

ALSO READ: The disdainful punisher, Smriti Mandhana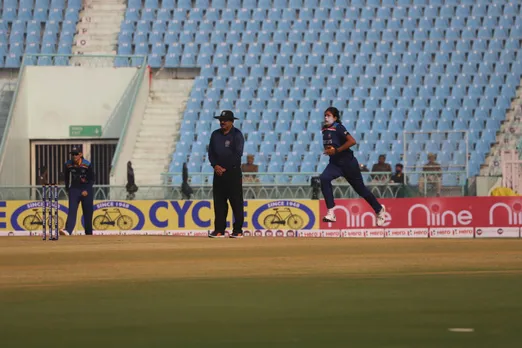 "Test cricket is going to be more of about the mind that the skills." © BCCI

As she has grown older, Goswami's focus, understandably, has been more on her fitness than her skills.

"The fitter you are, the better you are on the field and you'll recover quicker. When you're young, you don't need much time to recover, but as you grow older, there's more wear and tear in our body and the recovery time is bigger," she says.

"Every sport has become demanding now. Earlier we used to just believe in our skills, but now the focus is more on fitness. It plays a big role, because if you are fit you are able to do what you want on the field – you will be sharp, your mind will be active, you will be able to focus on the right thing. You will make better decisions."

Through her career consistency and effectiveness in the game have been Goswami's allies. And her understanding of her craft, and the ability to adapt to various conditions, have been major reasons for her longevity in the sport.

"As a bowler you have to constantly upgrade your skills too. The run-up is an important aspect, so that should be developed and kept as smooth as possible and that comes only through training and developing strength," explains Goswami, who has played 186 ODIs.



"On the cricket field, bowling, particularly medium pace, is the most challenging stuff. As a medium pacer, you have do a lot of training and fitness work in order to churn consistent performances."

While Goswami has long retired from T20Is to focus on the longer formats, expect her to go all out in the coming year that leads to the Women's World Cup 2022. And none of us would be surprised if the lanky seamer combines with her long-standing team-mate, Raj, to help India win the elusive world title.