South Africa to sport black kits in the second ODI to create awareness about violence against women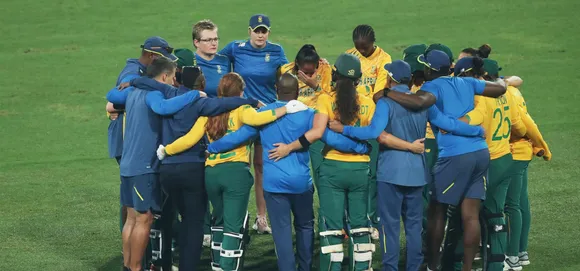 Cricket South Africa (CSA) has announced that the South African team would be sporting a black jersey during the second One Day International against Pakistan at Durban on January 23, 2021, to create awareness about gender-based violence against women in the country.

The 'Black Day ODI' event would be a part of the teams' annual calender from 2021, where they would be sporting a black kit to create awareness regarding gender-based violence against women. Initially, it was supposed to happen during the home series against Australia in March 2020. However, because of the pandemic outbreak, the event had to be postponed.

Speaking about the event, Cricket South Africa Acting Chief Executive Pholetsi Moseki said that gender-based violence is a national shame and that it is everyone's responsibility, not just as citizens, but also as an institution to create awareness regarding the issue.

ALSO READ: WCZ Cricket Cuisine Issue-3: Dress rehearsal in New Zealand

"This is an opportunity for us to raise awareness and encourage our society to be intolerant of all forms of violence against women and girls. The Black Day ODI is a platform to galvanise, educate, mobilize, create awareness, and agitate towards the eradication of GBV," he added.

Edward Khoza, the Acting Head of Cricket Pathways, said that the initiative came out of the feedback they got from the independent assessment they did on men and women cricketers across the country regarding the socio-economic, physical and mental aspects of the players' lives.

"The key reason is that cricket is not immune to what is happening in society. It rang a few alarm bells regarding the gender-based violence the women athletes face. We had to act immediately, bring in psychologists, and other necessary professionals to help the players."

ALSO READ: Pakistan coach David Hemp wants players to take individual accountability

He said that the CSA aims to create awareness about gender-based violence, which is one of the significant issues in the country through the 'Black Day' initiative.

Stand-in skipper Sune Luus said that they are excited to get play cricket again, adding, "it is a big day for us to raise awareness about gender-based violence, educate the people of South Africa and everyone who are watching the series across the world."

She added that it was unfortunate that the event did not happen in March 2020. Although the series is happening in a biosecure environment, Luus is hopeful that the event would happen in packed stadiums in future.

"If you bring two women together and give them a goal, great things will happen. This cause gives us extra motivation to perform well on the field for all the women who are affected by gender-based violence," Luus concluded.

The first ODI between South Africa and Pakistan begins on Wednesday (January 20).