Stand-in skippers eager to get back on field even as stiff challenges await them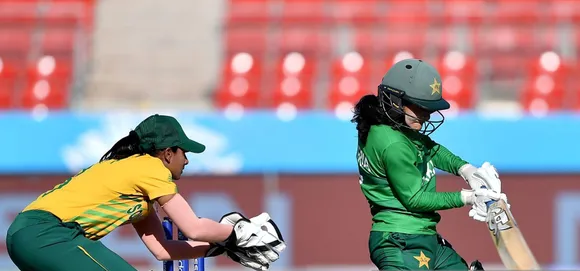 Javeria Khan in action against South Africa during the T20 World Cup 2020 © Getty Images
When Pakistan visited South Africa in 2019 to play three ODIs in the ICC Women's Championship, not many gave them much chance. But they managed to tie the series 1-1 with a convincing win in the first ODI and a coming back from behind tie in the last match.

Javeria Khan and Aliya Riaz were the key performers in the final ODI where their 70s took Pakistan from a position of 91 for 4 to tie the game chasing South Africa's total of 265. Now Khan returns to the rainbow nation as captain with regular skipper Bismah Maroof opting out of the tour for yet another series starting on January 20.

Khan is delighted to return to international cricket after a gap of more than ten months and happy to play an ODI series outside the Women's Championship as Pakistan look to start their preparations for the ICC Women's Cricket World Cup Qualifier scheduled to be played in July.

"It's an absolute pleasure to be in South Africa and restart international cricket after a gap of ten months. All the players are eager to get going and I am looking forward to the season," Khan said at the press conference, on Tuesday (January 19) ahead of the first ODI.

"It's great to be involved in a series outside (the) ICC Women's Championship as women bilateral series are not often played outside of its orbit. This series gives us ample amount of time and preps us to work out our best combination for the ICC Women's World Cup qualifier."

Just like Pakistan, South Africa also will be without service of their regular skipper Dane van Niekerk. Stand-in captain Sune Luus echoed her counterpart Khan's sentiment about returning to international cricket.

ALSO READ: Consistency, momentum in mind – South Africa, Pakistan reignite international rivalry

"It's obviously great to be back playing cricket after ten months without cricket. We are very happy to be here and the all the girls are very, very excited," Luus said.

"They (Pakistan) are always a difficult team to play against. It's always a great challenge when they come here. The last time we played them was two years ago and the game of cricket has evolved. Our players grew so much over the past two years."

"I'm just extremely excited to see how we can execute tomorrow and what Pakistan brings to the table. Hopefully we can counter attack that and just start tomorrow with a win."

Both Luus and Khan acknowledged the absence of regular skippers, but backed others from their side to use that an opportunity and rise to the challenge.

"Obviously not having our captain and vice-captain on tour is not ideal. But luckily, we have depth in the youngsters coming through and we have a couple of experienced players that's also hungry to take the responsibility," Luus said.

"We've had eight players in the Big Bash (WBBL) last year, two in the WIPL. Helping with the extra game time we had where we are ready to be ready to take on the conditions."



Khan said while the side will miss the services of Maroof both as a batter and a player, there are others who can step up in her absence.

"There's no denial to the fact that Bismah is an integral part of our side and she's been the captain and she's the captain. She has had over the past few years some brilliant performances on and off the field with her captaincy and with batting," Khan added.

"We can't deny the fact that she's not around and it gives an opportunity to the younger lot to step up and play their part and give their best in the absence of her and cement the place. We have a young dynamic squad, less experienced, but they are a young and enthusiastic squad and quite eager to perform and learn from the series."

With South Africa having 18-member squad and Pakistan having a 17-member squad, both camps chose to keep the cards close to their chests and refused to divulge more information about the starting XIs. Khan said they will choose the final playing XI from certain 12 players depending on the conditions Irrespective of all other factors, both Khan and Luus will be hoping for a competitive series like and hoping to start the series with a win.