Uganda Cricket Association announces 28-member probables for preparatory camps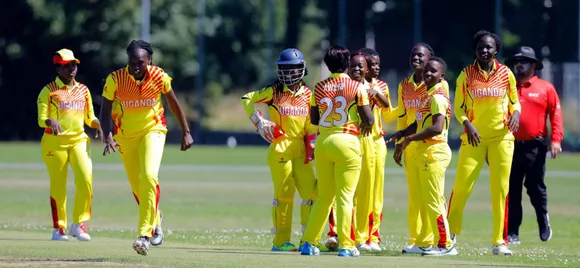 Uganda team in action ©ICC
Uganda Cricket Association has announced a 28-member probable for the preparatory camp ahead of the T20 World Cup African Qualifiers in Botswana in September later this year. The players from Soroti will train under Ivan Kakande in Soroti Cricket Academy while players from Jinja will practice with the Kampala group under the guidance of UCA Development Manager Davis Turinawe.

Uganda emerged champions in the same tournament in 2017 in Namibia and would like to count on that experience to qualify for the global qualifiers for the second time. As many as eight players who played in 2017 have been added to the probables. They are Consy Aweko, Rita Musamali, Stephanie Nampiina, Franklin Najjumba, Immaculate Nakisuyi, Rachael Ntono, and Naomi Kayondo.

ALSO READ: Uganda invite applications for the post of head coach

Earlier UCA has invited applications for the position of head coach. They earned T20I status in 2018 and have played 19 international games so far, winning ten of them. Uganda also hold the record for the highest team total in the format with their 314 for 2 against Mali in 2019.

The probables: Janet Mbabazi, Racheal Ntono, Rita Musamali, Kevin Awino, Leona Babirye, Immaculate Nakisuyi, Consy Aweko, Maria Nyende, Stephanie Nampiina, Naomi Kayondo, Esther Ilukor, Damalie Busingye, Evelyn Anyipo, Eunice Kobusingye,Teddy Ayella, Proscovia Alako, Racheal Achan, Sarah Walaza, Sarah Akiteng, Mary Akello, Christine Anayo, Franklyn Najjumba, Irene Alumo, Shakira Sadick, Patricia Malemikia, Phiona Kulume, Mildred Anyigo and Gloria Obukor.
Recommended Articles
{{#recommended_posts}}
Latest Stories
{{#latest_story}} {{/latest_story}}